Today I bring you the wonderful Tina from The Enchanted Home, to talk about her Last Supper. As you probably expected, she did it up right! Read on to learn how this talented and fun loving woman would do it!
*****************************************************************************
Hi there. When Barbara asked me to guest post for her on "my last supper" I was so excited. First, because its no secret I love great food and I love great company as much if not more. Then throw in a beautiful setting, gorgeous picture perfect weather and I am one happy girl! So Barbara's idea was to ask if this were my last supper....where would it be? What would be served? Who would get to attend?
I had fun thinking about it and though many places and ideas came to mind, the idea of the French countryside kept coming back to me, but with a twist. There were French elements to my meal but it is mostly Italian inspired, hail to my love of pasta. So its the best of both worlds...idyllic French countryside and their fabulous cheeses,wines and pastries married to satisfying and amazing Italian food and wine...the combination is heavenly! So, alas this is where it all begins....do join me! Off we go......
WHERE? My lucky guests are shuttled in great style to a fabulous unannounced location in the French countryside. It is rural, pastoral and above all beautiful. The drive feels like something right out of a fairytale....
Naturally the weather is PERFECT. I am talking low 70's, zero humidity, a slight breeze....as day turns to night, its just cool enough to warrant grabbing one of the pashminas I have lovingly filled a basket with.
On our way we go......the scenery is simply breathtaking! We spy the beautiful lavender fields in full bloom on our way and even stop to pick some!
We arrive at the beautiful home we have rented for the weekend just as the sun is setting and casting its golden glow over this magical setting.....
Not a light bulb in sight...everything is aglow in tiny twinkling white lights form the lanterns and candles that are literally everywhere! Under a starlit sky....we all feast on "my last supper".
Our tables are positively magical with strung lights, candles, flowers......elegantly rustic is how I describe it
WHO? I want to be surrounded by those I love and cherish the most. This would mean of course my husband, kids, parents and sister and family. Some of my extended family including my grandmother and aunt. Then of course six of my treasured friends and their families. Oh yes, we are turning into a big group indeed. Oh well...the more the merrier. Cheers to having people that love you and that you love back!
WHAT? Whats on the menu? This is the where the fun really begins! Its more like whats not on the menu..lol. Being we are in France, naturally we start with a very extensive cheese and bread course. I am talking seriously extensive as in we could open up a good sized cheese store with the amount of cheese we have here. The wine flows like a water spout. A wine paring for every course. French and Italian wines....yum!
A large beautiful table with every single antipasta delight you can imagine along with fresh breads right out of the oven is how we start this supper.....
Fresh crostinis of every variation are made right before our very eyes....works of art I tell you!
Then a fresh round of foccacia bread right out of the oven is presented for a sampling...
And finally the main course.....pasta, pasta and more pasta!
This is not just any pasta however, there is a table with a master pasta maker making it fresh right before our very eyes!
Just about when we think we cannot possibly devour another heavenly bite......I spy the setting up of the dessert table. Now this is when it gets good. VERY good. Take a look at all we feasted on.......not to mention the most wonderful cappuccinos and espressos that were served.....
Behold the magnificence......all this under the twinkling stars!
And meet the cast of characters........
Come to mama!
Our talented chef, made this macaroon cake in my honor!
French pastries....who can resist!
These were little "take homes" for then next morning
Oh yea.....
Chocolate is the key to my heart!
If it has fruit, therefore it cancels out the calories:)
As pretty as they were delicious!
And then when my buttons started popping, just when I thought I could not possibly eat another crumb....out they come making bananas foster right before my very eyes, one of all time favorites! Bring on the elastic waistband, there is no way I am skipping this!
Toast after toast was made into the wee wee hours of the morning. Time? What's that? No one cared.....time is a thing of the past. This is a night of celebration, great food, fine company, unstoppable laughter and good cheer. This is my last supper. Thanks for stopping in and being a part of it!
One more thing, here's a little souvenir to remember the night by.......
A monogrammed wine tote, a corkscrew and our very own vintage!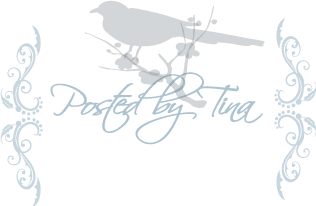 ****************************************************************
Beautifully done Tina! And how thoughtful of you to think of a souvenir to boot.
I'd join you for your Last Supper any day! :)